Upcoming Events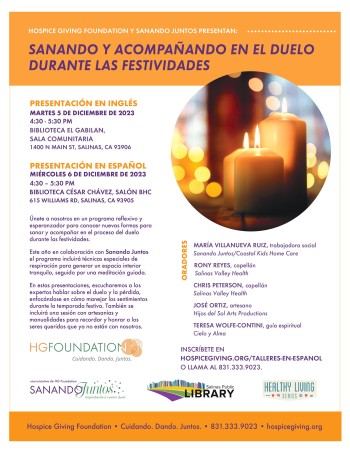 CCL - Sanando y acompañando en el duelo durante las festividades
December 6, 2023
Únete a nosotros en un programa reflexivo y esperanzador para conocer nuevas formas para sanar y acompañar en el proceso del duelo durante las festividades.
El Gabilan Library

Do you need to brush up your computing skills? Join our Beyond Basics computer class and take the next step on your digital journey. This class will cover valuable workplace...

Cesar Chavez Library

Parent-Child Playgroups 

Each playgroup provides sensory play and exploratory activities that develop speech and language, creative play, cognitive development, and...

Cesar Chavez Library

Join Ventana Wildlife Society and learn about science while exploring nature. Every Thursday, explorers will travel to Rancho Cielo in Salinas and learn about local natural...

Cesar Chavez Library

Science Workshop Unlimited is at Cesar Chavez Library every Thursday!

Kids and families can use imagination and tools to explore the world of science with hands-...

John Steinbeck Library

Bring your family to Storytime Jamboree at the John Steinbeck Library! We'll read, sing, and dance together as we put the focus on fun and set the silly to 11. For ages 0-7,...