Upcoming Events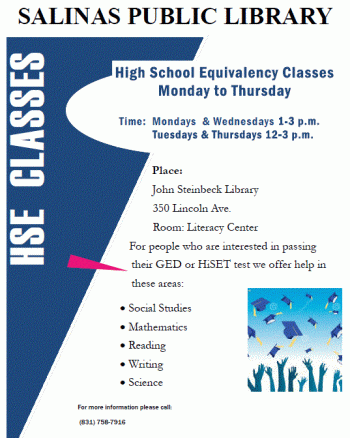 JSL High School Equivalency Class
June 19, 2019
John Steinbeck Library, 350 Lincoln Ave, Salinas, CA
Preparation to pass HSE exam for all subjects. For information, call (831) 758-7916.
Cesar Chavez Library

Come read a story together and then learn how to bring it to life.  We'll play some acting games, stretch our muscles, then stretch our creativity as we act out the stories we...

John Steinbeck Library

Smart financial management is the corner stone for a successful business. Join us as we learn the concept and importance of effective financial management. The workshop will...

Cesar Chavez Library

Join us for short stories, songs, action rhymes, fingerplays and fun!

Cesar Chavez Library

Join us, gain confidence and improve your English skills. Every Monday and Wednesday 4:00-5:30 P.M. For more information call the Literacy Center at (831) 758-7916

Cesar Chavez Library

Toddlers (with a favorite adult) can enjoy interactive stories, songs, and games that encourage their emerging language skills.  Target audience is birth to three years old...