Services at this Library:
More than 40,000 items for all ages available in variety of languages and formats such as books, magazines, newspapers, DVDs, music CDs, books on CD, and more
Reference materials for in-library use.
Free WiFi
Public use computers with internet access, printing, and scanning capabilities
Children's area equipped with early literacy computer stations, children's story time and programs
Teen area with teen programs
Literacy resources and programs, including Read Grow & Play playgroups
Digital Arts computers equipped with multimedia editing resources
Video games, consoles, and controllers available for in-library use
Study room
Community meeting room
Homework Center
Library staff who can provide assistance locating information, using print and electronic sources, and choosing books and other materials
Room Reservations:
Cesar Chavez Library offers a study room that is available for public use during open service hours. Click here to reserve a study room.
Study room usage guidelines:
Rooms may be reserved by one or more people but cannot exceed the maximum occupancy of each room.
Request to use the study rooms may be made in person at El Gabilan Library or online, and no more than one (1) week in advance.
Room reservation is limited to two (2) hours per person, per day, to ensure equitable access of library facility.
Reservation may be canceled if the room is not being used within the first fifteen (15) minutes of reserved schedule. 
No food is allowed in the study room. Drinks are limited to those in closed containers such as covered cups, cans, or water bottles, and must be kept away from electronics.
Please be considerate of others and clean up before leaving the study room.
Community Meeting Rooms
The BHC community meeting room is available at Cesar Chavez Library that may be reserved for public use when not being used for Library activities. Fees may be charged according to the current Library Fee Schedule.
The meeting room has a capacity of 204 people. Download the room reservation application here. 
Another community meeting room is also available at El Gabilan Library.
Latest News
Día del Niño

May 3, 2023

The Literacy Program welcomed families to celebrate Día del Niño at Cesar Chavez Library last week. With over 200 people in attendance, it was a fun celebration where families learned the importance of movement and play in Early Childhood Literacy Development. Bubbles and blocks are so much more than just fun & games! Imaginative play and coordinated movement help children develop the strength, stamina and creativity they need for academic success. Each child that attended received an activity pack and a book to help build their home library.

Every adult registered in the...

Proud Moments for Newly Naturalized U.S. Citizens

April 11, 2019

Fifty adults took the oath of citizenship earlier this month in a ceremony at Cesar Chavez Library, and were delighted to have Congressman Jimmy Panetta make the opening remarks as the keynote speaker and share his personal immigration story. The Library partners regularly with the U.S. Citizenship and Immigration Services to host their Naturalization Oath Ceremony, and also offer information sessions.

If you know anyone preparing to take this important step, we can help. Currently, there are more than 100 adults participating in our small group Citizenship classes which include practicing mock interviews and...

SPCA Family Workshop

October 25, 2017

Please join us in learning about pets and wildlife with the SPCA for Monterey County every 2nd Saturday of the month at the Cesar Chavez Library. The event starts at 12:00 pm and ends at 1:00 pm All family members are welcome to attend.
Cesar Chavez Library events are listed on the Calendar page,...
Cesar Chavez Library
Street Address:
615 Williams Road Salinas
Regular Hours:
Mon:

closed


Tue:

12:00 pm-6:00 pm


Wed:

12:00 pm-6:00 pm


Thu:

12:00 pm-6:00 pm


Fri:

10:00 am-4:00 pm


Sat:

10:00 am-4:00 pm


Sun:

closed

Phone Number:
Upcoming Events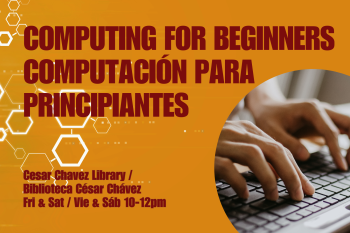 CCL-FALL Computing for Beginners Class
December 9, 2023
Ready to begin your digital journey? If you are tired of asking friends and family for help to get online, or you haven't used a computer for a while and need to build your confidence, our Computing for Beginners class is for you. All materials are provided in this free, 8-week program.
Cesar Chavez Library

We are pleased to announce our Citizenship Preparation Expanded hours starting May 9. 

English class: Tuesdays @ Cesar Chavez Library 5:30pm to 7pm...

Cesar Chavez Library

Get ready for a craft-tastic time! Join us every 2nd Wednesday of the month for a creative adventure. This month, we're diving into the holiday spirit with a special project:...

Cesar Chavez Library

Parent-Child Playgroups 

Each playgroup provides sensory play and exploratory activities that develop speech and language, creative play, cognitive development, and...

Cesar Chavez Library

Join Ventana Wildlife Society and learn about science while exploring nature. Every Thursday, explorers will travel to Rancho Cielo in Salinas and learn about local natural...

Cesar Chavez Library

Science Workshop Unlimited is at Cesar Chavez Library every Thursday!

Kids and families can use imagination and tools to explore the world of science with hands-...