Proud Moments for Newly Naturalized U.S. Citizens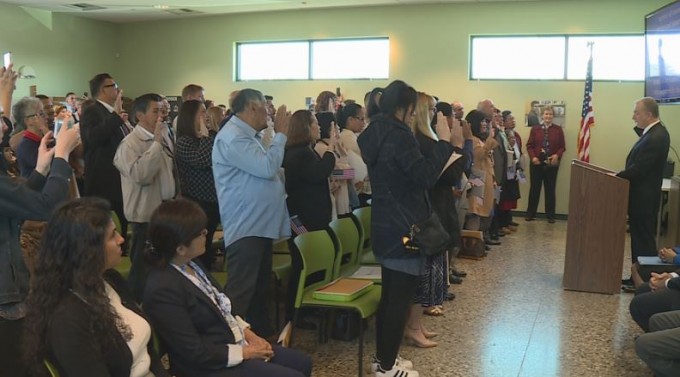 Fifty adults took the oath of citizenship earlier this month in a ceremony at Cesar Chavez Library, and were delighted to have Congressman Jimmy Panetta make the opening remarks as the keynote speaker and share his personal immigration story. The Library partners regularly with the U.S. Citizenship and Immigration Services to host their Naturalization Oath Ceremony, and also offer information sessions.
If you know anyone preparing to take this important step, we can help.  Currently, there are more than 100 adults participating in our small group Citizenship classes which include practicing mock interviews and using technology to take multiple choice exams. There are also more than six volunteers who help regularly with the program. Just last month, 5 students passed the Citizenship Exam and will eventually be invited to participate in a similar Naturalization Ceremony.
We also have online resources for adults to get started today from the comfort of their own home. HelpNow from Brainfuse is one of those services with a separate Citizenship module available in English and Spanish. Click here to get started.
Please call our Literacy Center for more information at (831) 758-7916 or click here to learn more.