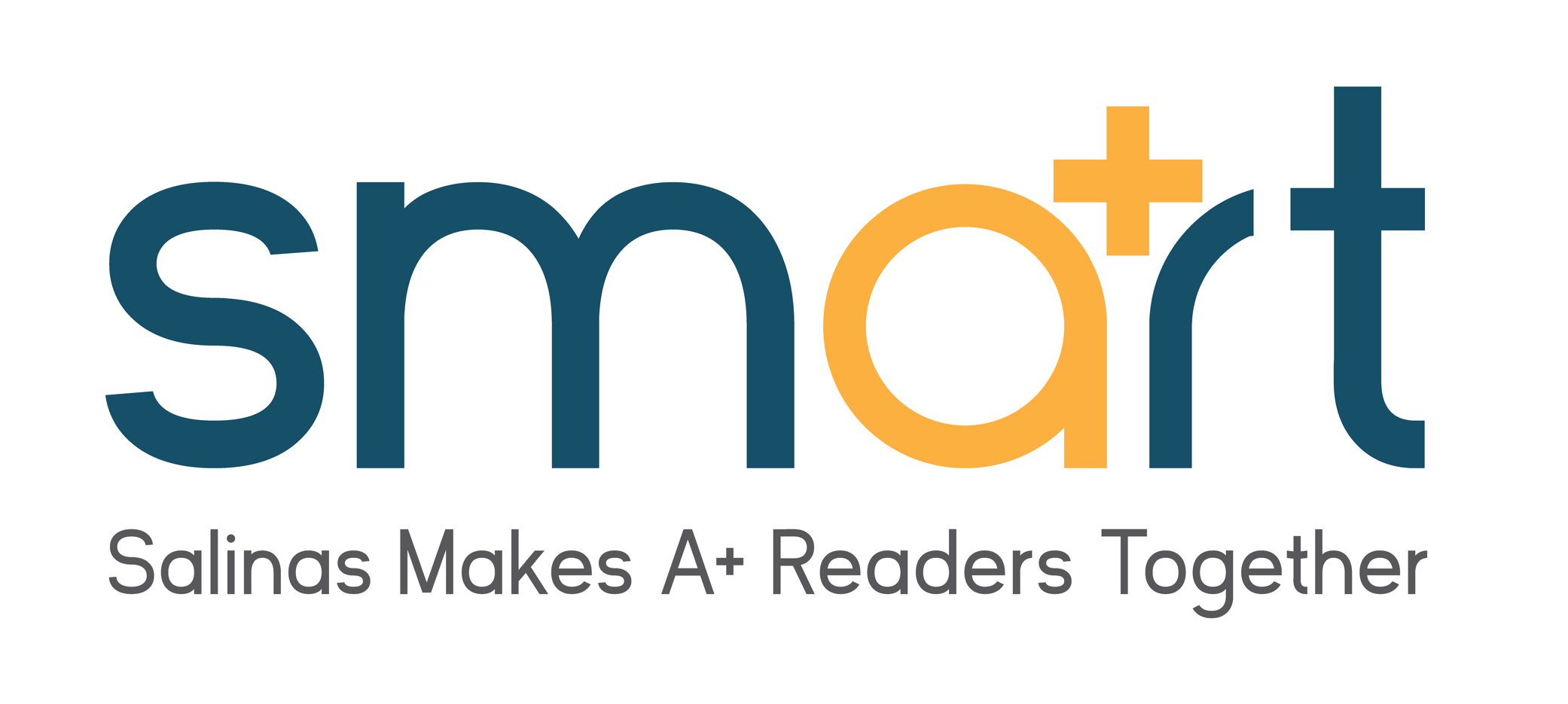 Smart Card is a virtual library card for students that allows them to use their Student ID number to access library services. With a Smart Card, students can:
Borrow up to 2 books at a time, at Salinas Public library locations
Borrow up to 5 e-books or e-audiobooks at a time through OverDrive
Get free online homework help and tutoring everyday through HelpNow (available in English and Spanish)
Access to primary sources, encyclopedia, articles, and other resources for homework and research assignments through World Book Online and Explora
Learn a new language through Rosetta Stone.
Currently, this pilot program is limited to students of select schools from the Salinas City Elementary School District.
Frequently Asked Questions about the Smart Card
My child has a library card. How is the smart card different?
This card is a virtual card for students that uses their Student ID number to facilitate access through the school portal or from home. A physical card will not be issued. 
What information does the school share to get my child a smart card?
The Family Educational Rights and Privacy Act (FERPA) allows only directory information to be shared. This includes only the student's name, address, telephone, date of birth, and school name. Your child's school will not have access to your child's library record. Your child's library record is fully confidential as required by state law.
What if I don't want my child to have a smart card?
What can my child do with the smart card?
Your child can check-out digital resources and two books.  No movies or CDs can be checked out with the smart card. If you want your child to have access to more than two books, movies, or CDs, please visit a branch of the Salinas Public Library to get them a full-service card, requiring parent consent and signature.
When does the smart card expire?
The smart card will expire when your child graduates from high school.
What happens if my child borrows books or other materials and loses or forgets to return them?
There are no overdue fines on library materials, but a lost item will be billed at replacement cost.  The card will limit your child to only two print items at a time, reducing the likelihood that a child will accrue large outstanding fees for lost items. Lost item fees will not affect your child's ability to access e-books, e-resources, and databases.
What if my child already has a library card?
The smart card does not replace your child's physical library card, which allows for a total check-out of 25 books.  Since these are two different cards, there is no conflict.  Either card will allow your child access to physical materials and online resources, but the smart card will allow your child to use his or her Student ID# as a library card number.  The PIN for the physical card is normally the last four digits of the phone number, but the smart card will use the last four digits of the Student ID# as a PIN. ​
What resources are available to my child with a smart card?
HelpNow – your child can get free homework help from a live tutor everyday, from 1:00 – 10:00 pm.
California Missions – your child can find out all about any California Mission using this digital resource from Follett Shelf.
World Book Online – Explore Geography, Biographies, Animals, and other subjects assigned for homework.
Great Lives from History: Latinos – Biographical essays on 518 individuals from the eighteenth century through the present, offering a fascinating perspective on Latino history in the United States, from Salem Press.
Explora – A simple way to search and browse magazine and journal articles, reference books, essays, documents, and Associated Press videos, with topic overviews that provide a starting point for research on current issues and popular searches.
Rosetta Stone – Learn one of 30 languages with core lessons to build reading, writing, speaking, and listening skills and focused activities to refine grammar, vocabulary, pronunciation, and more.
Use public computers at the library and print for 10¢ a page.
Borrow two books from any of our three locations or the KinderMobile.
Thousands of e-books and e-audiobooks from Overdrive.