KinderMobile completes another successful year of providing services!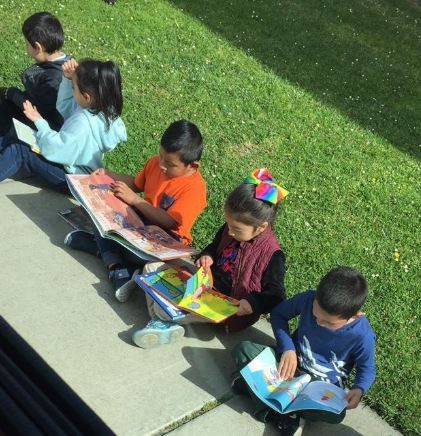 These Kindergarten children can't wait to get back to the classroom to read their books! They dive right in while their classmates are inside the KinderMobile making their book selections.
Approximately 1790 new library cards were issued this year to Kindergarten students and 23,115 books were checked out. That's nearly 13 books per child! The KinderMobile visited 28 elementary schools during the 2018/2019 school year, and made 224 school visits.  
"It was important to do more than just issue library cards," says Eric Howard, Deputy Librarian." "We have to improve access and help build healthy habits at the beginning of each child's academic career. We made it a big goal to reach every kindergarten student every month with books and an enthusiastic librarian. The community is enjoying a big success from this program." 
The KinderMobile is just one of many outreach strategies the Salinas Public Library has to improve literacy throughout the community and instill in young children a love of reading.
To learn more about this program, please call (831) 758-7311.