El Gabilan Library service suspension begins July 8, 2018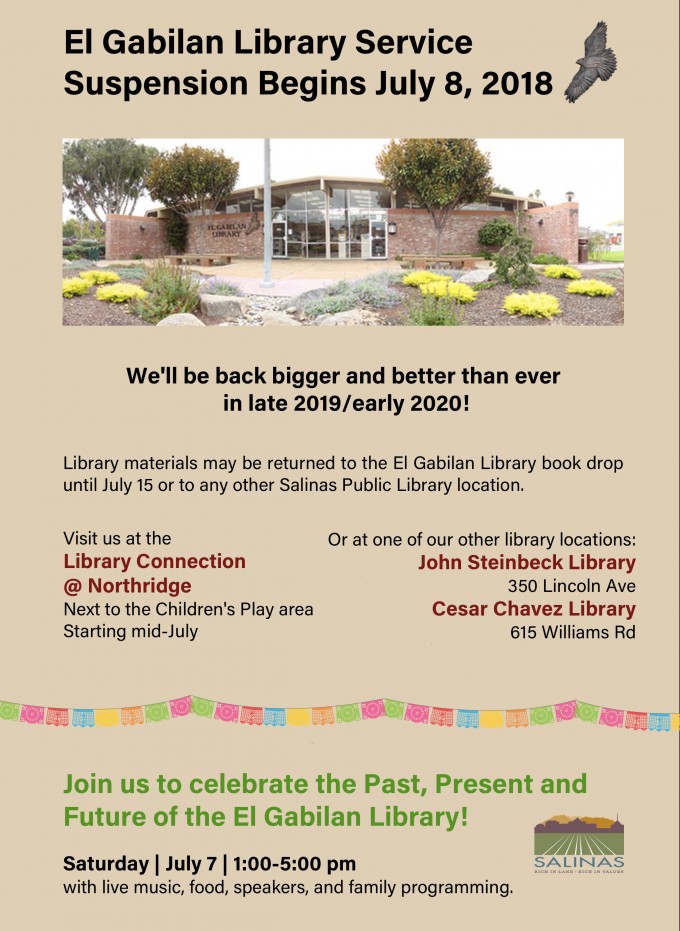 Beginning on Saturday, June 30th, the public is invited to join library staff and city officials in a weeklong celebration of the past, present and future of El Gabilan Library. The event will kickoff on June 30th at 1:00 pm with a variety of family programming and at 5:00 pm, puppeteer Nick Knaves will provide entertainment.
Throughout the week, library patrons will be able to view a display of the Library's history and to leave messages inside the Library about what the El Gabilan Library has meant to them over the years. After opening its doors in 1966, the current El Gabilan Library building will suspend services on Saturday, July 8th in preparation for the construction of a new facility on the same site. The closing ceremony on the afternoon of July 7th, from 1:00 - 5:00 pm, will include live music, food, speakers, and family programming.
Moving Forward on Construction:
On May 15th, the City Council approved the funding plan to build a 21,000 square foot library in North Salinas. After more than a year of public feedback and analysis, the Council's vote ushers in a new chapter for the Salinas Public Library. The public is encouraged to access the Library's website and review the latest designs for the children's room and the adult area.
Current plans call for the demolition of the building in late summer, a ground-breaking ceremony in early September, and construction of the new building to be completed in late 2019/early 2020.
Interim Location:
Library materials may be returned to the El Gabilan Library book drop until July 15 or to any other Salinas Public Library locations.
Library service to North Salinas will continue in mid-July from The Library Connection @ Northridge, a limited service location at the Northridge Mall opening in mid-July. From this new location the public can learn more about library services, get a library card, check out and return library materials and use public computers.
A full array of library services and programming is available at the John Steinbeck Library and the Cesar Chavez Library.