Stay healthy in the New Year with a little help from your local library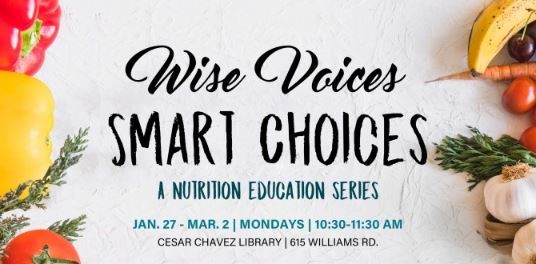 Our health-related workshops and classes can make it easier for you to keep your "Get Healthy" resolution this year. From nutrition and living a healthy life, to coping with chronic disease, we have the help of local experts to bring the best information to you.
We are offering "Wise Voices, Smart Choices," a 5-week nutrition class that helps adults improve their skills with preparing healthy meals and adopting a healthy lifestyle for long-term benefits. Participants receive a bag of produce at each class to encourage healthy eating. The class is currently underway at Cesar Chavez Library, and there is still time to join! The next meeting is on Monday, February 3rd, from 10:30 am to 12:00 pm. The class will also be offered Tuesday evenings in March at the new El Gabilan Library, and reservations will start February 17th. Topics include: strategies to increase whole grain and veggie consumption, identifying sources of unwanted sugar and salt, as well as saving money while budgeting for healthy living.
Three cooking demos are coming up, starting on Monday, February 10th from 3:30-4:30 pm at Cesar Chavez Library with "AsparaYES!", a chance to learn how to cook healthy with asparagus. Participants will get to sample a dish, and will leave with healthy recipes. Fun and engaging, these cooking demos continue on Mondays, March 9, April 13 and May 11 at Cesar Chavez Library.
Lastly, join us for the Understanding Alzheimer's and Dementia Workshop on Wednesday, February 19th at John Steinbeck Library and learn about the difference between Alzheimer's and dementia, risk factors, current research and treatments and more.