Start the conversation with MANGO!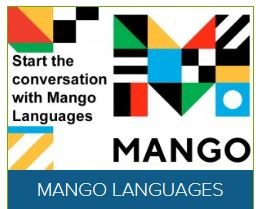 The Salinas Public Library is happy to announce the addition of Mango, an online language learning tool the public can use for free. "In addition to Rosetta Stone, we are now offering Mango for anyone wanting to learn a new language," says Interim Deputy Librarian Mila Rianto. "I encourage everyone to try it out and tell us what they think." 

Mango uses intelligent technology and an adaptive algorithm to help people of all ages learn a new language and communicate with confidence. It offers self-paced language instruction that introduces the learner to cultural insights and grammatical nuances specific to their language of choice, and delivered through native speaker dialogue. It is available in 70 different languages . 
The library also offers free access to Rosetta Stone from its website. Rosetta Stone provides core lessons to help learn 30 different languages to build reading, writing, speaking, and listening skills. It uses focused activities to refine grammar, vocabulary, pronunciation, and more.
Get started today with Mango on your computer, or download the app now at Google Play Store or Apple App Store.