Services at this Library:
More than 100,000 items for all ages available in variety of languages and formats such as books, magazines, newspapers, DVDs, music CDs, books on CD, and more
Local history and John Steinbeck special collection
Reference materials for in-library use, including access to comprehensive database of car repair information, database of grants, and historical California telephone directories
Free WiFi
Public use computers with internet access and printing capabilities
Photocopy machine and scanner
Children area equipped with early literacy computer stations, children storytime, and family programs

Reading to Dogs: Wednesday, 3:30pm- 4:30pm
Pajama Storytime: Thursday, 6:00pm- 6:30pm
Family Storytime: Saturday, 11:00am- 12:00pm

Teen area equipped with Teen Lounge console gaming system and teen programs
Literacy Center that provides adult and family literacy programs and resources, including Read Grow Play playgroup
Digital Arts Lab equipped with multimedia editing resources and classes
Monterey Bay Aquarium Shelf to Shore program
Homebound Services program to provide library services for city of Salinas residence with limited mobility
Library staff who can provide assistance locating information, using print and electronic sources, and choosing books and other materials
Some of the artworks on display at John Steinbeck Library are part of the Salinas Valley Art Association (SVAA) rotating collection. SVAA is a non-profit organization dedicated to the promotion of the visual arts since its inception in 1945 . For further inquiries about the artworks, please visit the SVAA website.
John Steinbeck Library events are listed on the Calendar page,...
A Library card or photo ID is required to use...
John Steinbeck Library
Street Address:
350 Lincoln Avenue Salinas
Regular Hours:
Mon:

10:00 am-6:00 pm


Tue:

12:00 pm-8:00 pm


Wed:

12:00 pm-6:00 pm


Thu:

12:00 pm-8:00 pm


Fri:

10:00 am-6:00 pm


Sat:

10:00 am-6:00 pm


Sun:

1:00 pm-6:00 pm

Phone Number:
Upcoming Events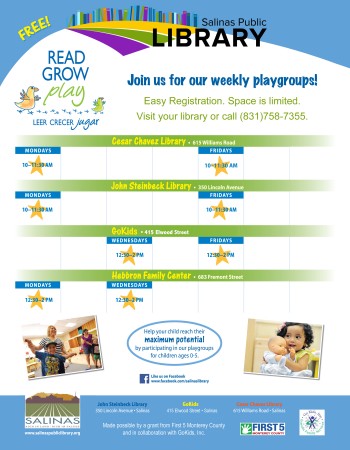 JSL Playgroup
December 13, 2019
Playgroup for registered participants ONLY.  If you are interested in our next session, please fill out an interest form. 
John Steinbeck Library

Preschool Pals is a new program for ages 3-5.  Come join us for stories, songs and activities to stretch little bodies and brains and prepare them for future school success....

John Steinbeck Library

Join us for a weekly family storytime.  Stories, songs, silliness and parachute games will put some fun in your weekend!

John Steinbeck Library

Learn the Basics of Adobe Photoshop. Bring in your photos and get a hands-on learning experience. Fix torn and faded photos, create greeting cards, flyers and more! This is a...

John Steinbeck Library

Preparation to pass HSE exam for all subjects. For information, call (831) 758-7916.

John Steinbeck Library

Toddlers (with a favorite adult) will enjoy interactive stories, songs, and games that encourage their emerging language skills. Target audience is birth to three years old...