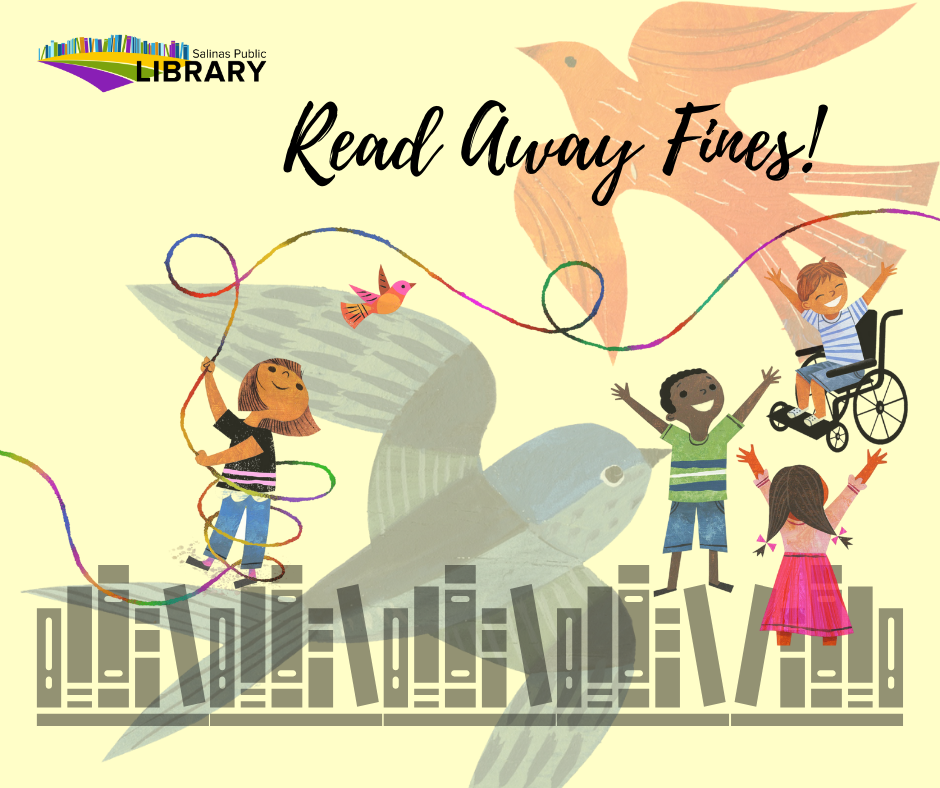 Read at home and reduce your fines!
We are expanding Read Away Fines to celebrate Library Card Sign-Up Month!
All Salinas Public Library cardholders of all ages, can remove their library fines by reading them away. For every day spent reading, $5 in fines will be removed from your account. How easy is that?!
To participate in the program, complete this form after you finish reading. Include your library card number, number of days read, and tell us about what you've read. Our staff will review and let you know when the fines have been removed from your account. 
This program will run from September 1 through October 31, 2020
How do I qualify?
If you have a Salinas Public Library card with fines, you're eligible! You just have to log time reading by submitting the form above.
What fines will be waived?
Any and all fees accrued on your card. We will waive overdue fees, lost and damaged material replacement fees, processing fees, and library card replacement fees.
If I don't have fines on my account, or I already paid them, can I get cash or credits?
No. The Read Away Fines program waives outstanding fees only. No reimbursement of past fines or credit towards possible future fines will be provided.
Do I have to read the whole day to get credit?
No. While the program is based on a $5-a-day credit system, we are not requiring you to read for a certain number of hours each day to get the credit.
We do encourage you to read at least 30-60 minutes everyday.
Do I have to read to receive credit, or can I watch a movie, listen to music or surf the web?
Can I read to reduce fines accrued on another person's account?
A parent or caregiver may read to a child, thereby reducing the fees on the child's account (not the parent's). Otherwise, no, you must read away the fees on your own account and cannot reduce the fines of other cardholders.