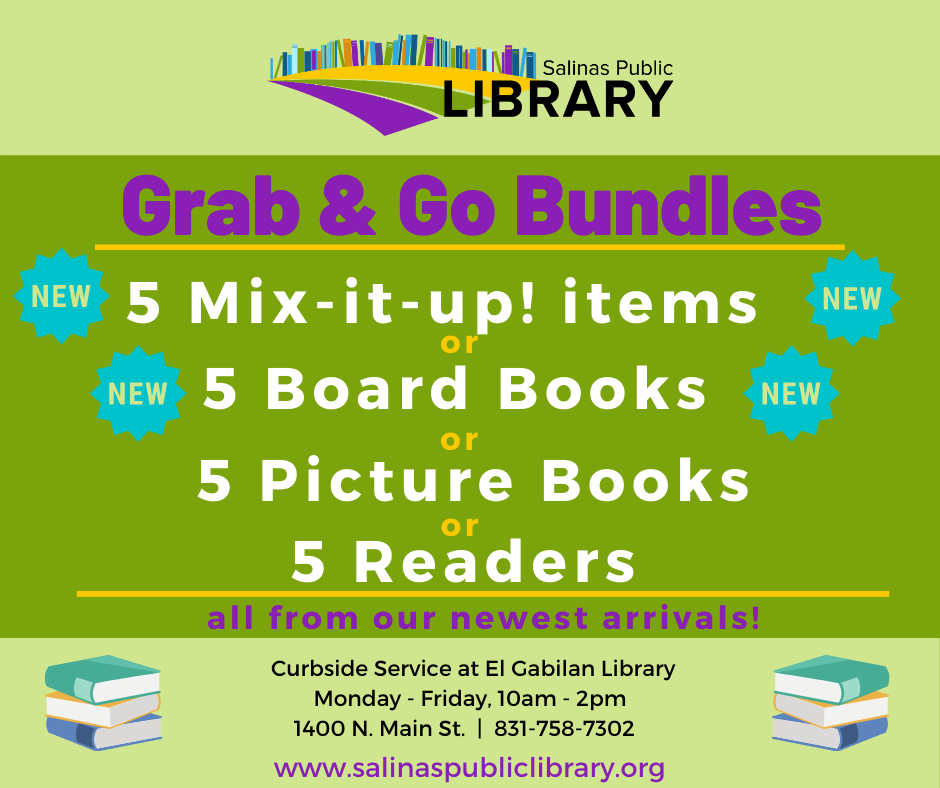 In addition to requesting specific library items using Curbside Service, you can also request Grab & Go Bundles. 
What is a Grab & Go Bundle?
A Grab & Go Bundle contains 5 librarian-selected books from the newest arrivals of Salinas Public Library materials. 
Each Grab & Go Bundle will have 5 books or items of a specific type. 
Currently, Grab & Go Bundles are available for Picture Books and for Readers (books for children learning to read). Beginning August 17 we will have two new types of bundles for children: Board Books and Mix-it-up!
* Mix-it-up! bundles have 5 children's items of various types. These bundles will always include some books as well as other types of related materials such as DVDs, music CDs, or magazines. The total number of items in the bundle will be five. 
Bundles are available in English and Spanish.
Requesting Grab and Go Bundles is simple!
During Curbside Service hours at El Gabilan Library (Monday - Friday, 10:00 a.m. - 2:00 p.m.), simply ask for the amount and type of bundles you would like. We will check them out to you on the spot.
No forms or phone calls are necessary.
Grab & Go Bundle Allowance
You may request up to 5 total bundles of Grab & Go Children's Materials. 
Each bundle counts as 1 hold request towards the 5 item request limit. 
Each individual item in the bundle will be checked out to your account (1 bundle = 5 items) and will count towards the 25 item checkout limit.