New Library in the Works
We are very proud to announce that the City of Salinas will be building a new branch library very soon to replace the existing El Gabilan Library. The opportunity for a Library system to recreate its space and re-envision its services occurs infrequently so we see this as an important event in the community. In the 21st century, libraries have evolved from being warehouses for books to being anchors within the community, critical community hubs where neighbors can meet and learn from one another. Library users can learn a new language, prepare for the next stage in their career, discover how to become an even better parent, find assistance in building a business, receive homework help, read an amazing story or get information on their health and much, much more. Libraries can truly transform lives
We are seeking the public's feedback on their priorities for this space - its design and its function. Currently, the El Gabilan Library's space is less than 3,500 square feet. The plan is to greatly expand its services and structure. The Library has already begun meeting in small groups with community members for their input, but we are inviting everyone in the community for an afternoon of collaboration around ideas for the new library. As we listen to your ideas, they will be incorporated in the planning and additional community forums will be held to keep everyone up to date. This is YOUR library. I strongly urge you to participate - your input will have a lasting impact on generations to come.
Services at this Library:
Almost 30,000 items for all ages available in variety of languages and formats such as books, magazines, newspapers, DVDs, music CDs, books on CD, and more
Reference materials for in-library use, including access to comprehensive database of car repair information
Free WiFi
Public use computers with internet access and printing capabilities
Photocopy machine
Children area equipped with early literacy computer stations, children story time and programs

Pajama Storytime: Tuesday, 7:00pm – 7:30pm

Literacy resources and programs, including Read Grow Play playgroup
Monterey Bay Aquarium Shelf to Shore program
Homebound Services program to provide library services for city of Salinas residence with limited mobility
Library staff who can provide assistance locating information, using print and electronic sources,  and choosing books and other materials
Latest News
El Gabilan Library service suspension begins July 8, 2018

June 22, 2018

Beginning on Saturday, June 30th, the public is invited to join library staff and city officials in a weeklong celebration of the past, present and future of El Gabilan Library. The event will kickoff on June 30th at 1:00 pm with a variety of family programming and at 5:00 pm, puppeteer Nick Knaves will provide entertainment.

Throughout the week, library patrons will be able to view a display of the Library's history and to leave messages inside the Library about what the El Gabilan Library has meant to them over the years. After opening...

We're moving forward!

June 1, 2018

It's now official! The City Council on May 15th approved the funding plan to build a 21,000 square foot library in North Salinas. After more than a year of public feedback and analysis, the Council's vote promises to usher in a new chapter for the Salinas Public Library. The new library will officially be breaking ground this summer to build a much needed library that will replace the small El Gabilan Library. Click here to learn more about our plans for the children's room, and here (link is external)...

What we have planned for adults!

May 10, 2018

At the John Steinbeck Library, the Literacy Center teems with adult learners and adults at Cesar Chavez Library take full advantage of the Alisal Room to gain computer and language skills. Our Libraries in East and South Salinas strive to serve the adult population, but the current El Gabilan Library, with only 3200 square feet, must squeeze in adults, while pushing everyone else out. Last week we reviewed how the architects transformed community feedback into a new design for the El Gabilan Library and how that new building will serve children and teens. This week...
El Gabilan Library
Street Address:
1400 North Main Street Salinas
Regular Hours:
Mon:

10:00 am-6:00 pm


Tue:

12:00 pm-8:00 pm


Wed:

12:00 pm-6:00 pm


Thu:

12:00 pm-8:00 pm


Fri:

10:00 am-6:00 pm


Sat:

10:00 am-6:00 pm


Sun:

1:00 pm-6:00 pm

Phone Number:
Upcoming Events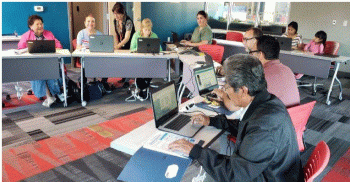 EGL Computer Class (Beginner)
December 11, 2018
Learn how to use a computer to prepare you to search and work online.
You will learn from how to turn on a computer, use keyboard and mouse, to using web browsers, creating an online account for emails and documents.
For more information call (831) 758-7916