Celebrating Blocks and Science in our Libraries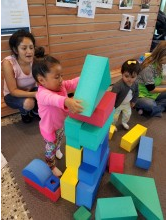 Some children thought they were making cars that went vroom, others thought they were building walls and sandcastles; but all of them were having a good time, and learning about blocks: blocks of different sizes, different shapes and weights, different colors, and materials, from foam to wood and cardboard. More than 43 children, and 25 families  participated in last Saturday's BLOCKFest at Cesar Chavez Library.
Research shows that children's block play is related to later math competence. Block play also provides a natural context for exploring the physical world. Special thanks go to First 5 of Monterey County who helped sponsor this event.
If you want to learn more about this national program, please go to BLOCKFest or call Ernesto Lizaola, Community Education Manager, at (831)758-7229.